Expertise · Guarantee · Quality
Number #1 Covering
Fabric Manufacturer
ISO9001:2015
Certified Company
Request a Quote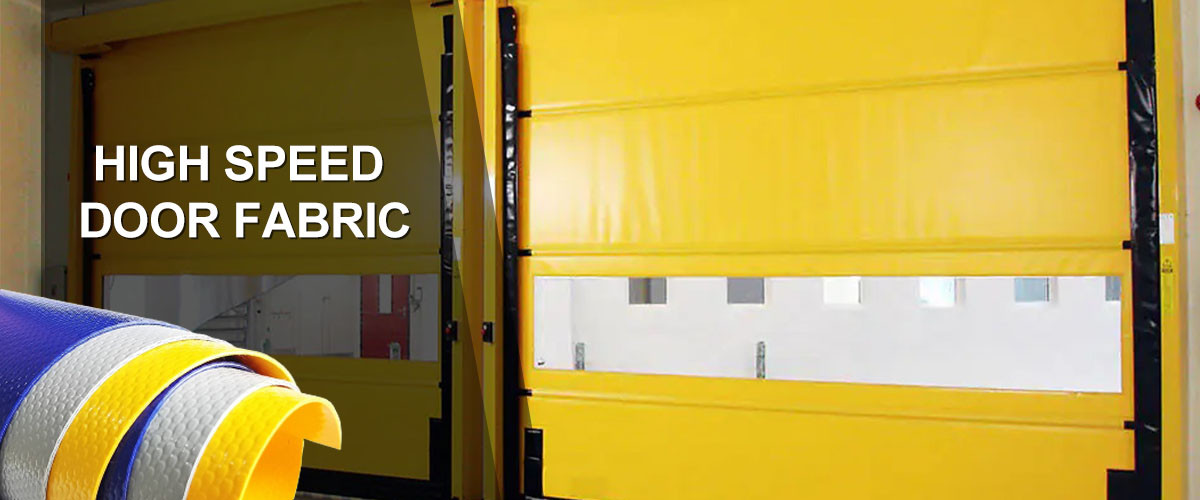 Roll up door fabric for industrial door which is commonly used business facilities, Especially the larger,inconvenient installation ground door place to convenient, quick open role. According to the difference of structure and function. Industrial door can be divided into the following types: Sliding Doors, Guillotine Doors,Sectional Overhead Doors, Fabric Lifting Doors, Round-the -corner Doors and Vertical Bi-folding Door.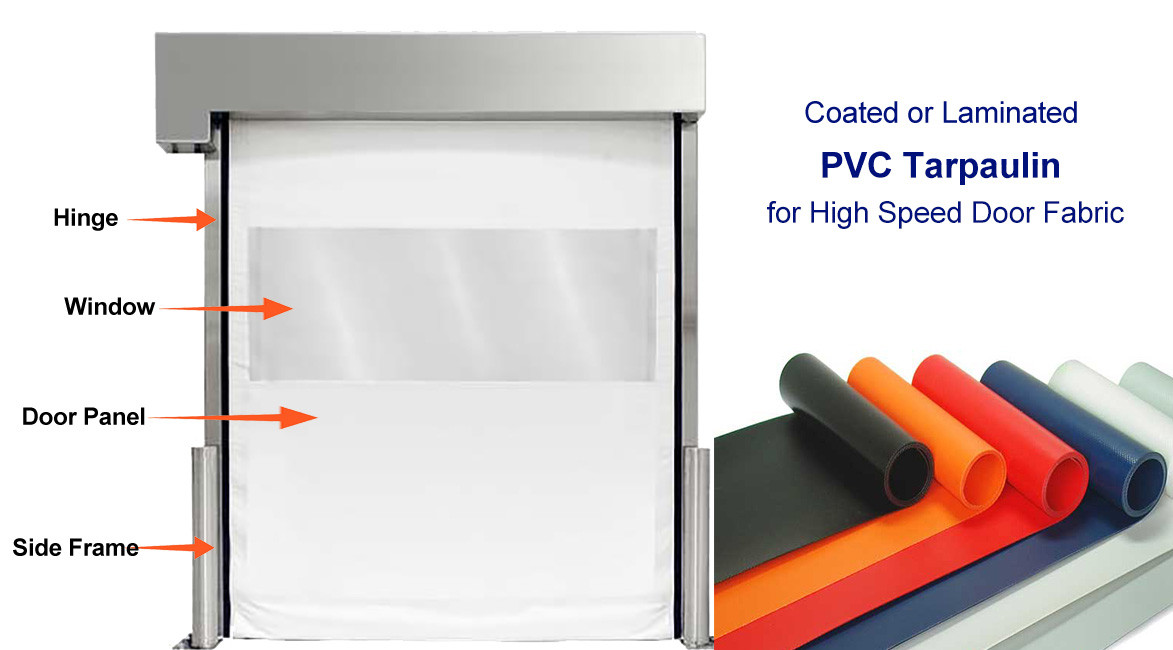 | | |
| --- | --- |
| Technology | Laminated |
| Structure | PVC coating+polyester woven base fabric+PVC coating |
| Base fabric | 1000D*1000D/30*30 |
| Weight | 1000-1300gsm |
| Thickness | 0.82 |
| Width | 1.05-3.2m |
| Roll length | 50m/100m |
| Surface | Glossy/Matte |
| Blockout | Extra blockout layer available |
| Tensile Strength | 4000/4000 N/5cm DIN53354 |
| Tear Strength | 600/500 N/5cm DIN53356 |
| Adhesion | 100 N/5cm DIN53357 |
| Temperature | -20~+70(C) |
| Surface | Double side acrylic larquered, Tear-Resistant, Waterproof |


High Speed Door Fabric
have below Features:
- Hot-melt Coating technology(Semi-coating)
- Good peeling strength for welding
- Outstanding tearing strength
-
Flame retardant character.(optional)
-
Anti ultraviolet treatment(UV).(optional)
-
Acrylic treatment (optional)
-
Temperature resistance: -20-70℃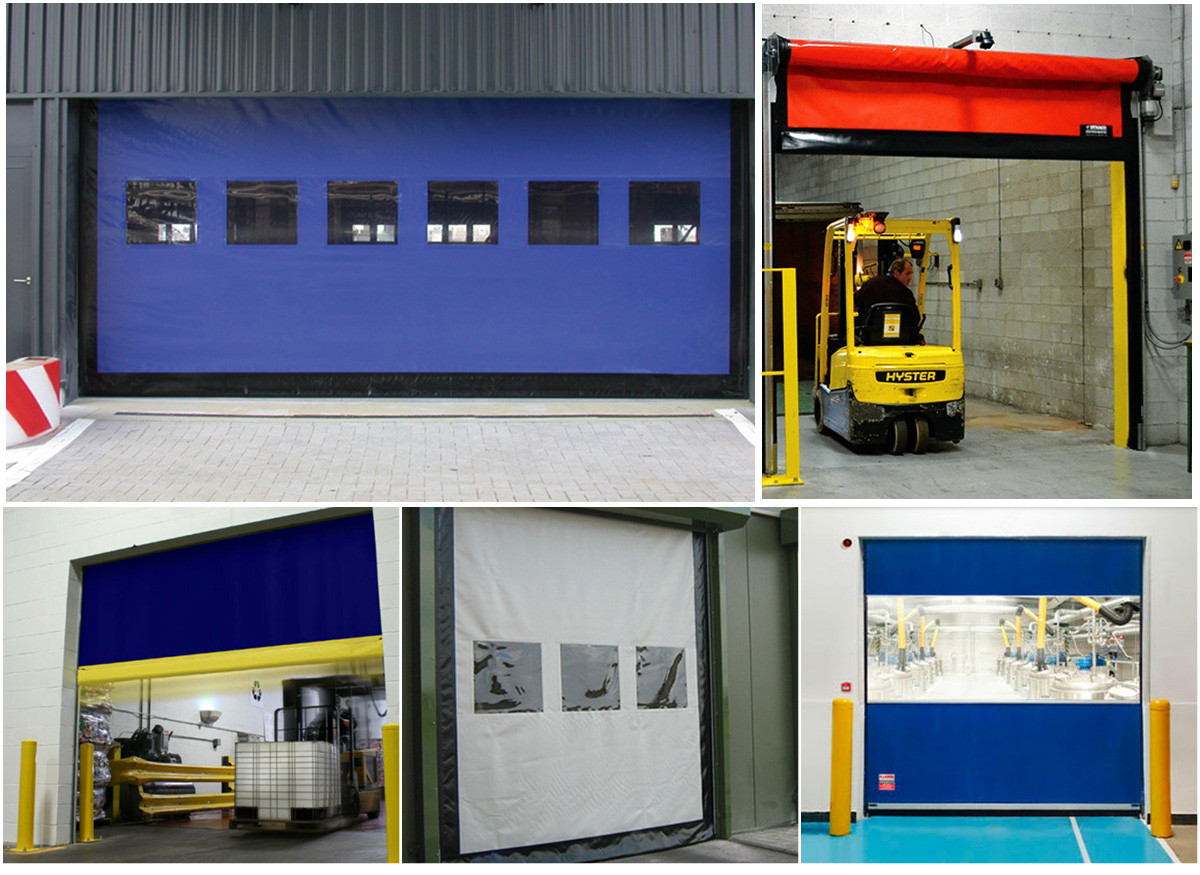 WHAT THIS PRODUCTS USED FOR?

Air leakage in industrial premises is a costly expense and ensuring you have the correct doors in operation is critical to reduce energy costs. The High speed automatic opening and closing of these rapid roll doors will provide valuable energy saving by maintaining the internal room temperature and also reduce contamination from airborne pollution and ingress of insects and vermin, essential in controlled warehouses and buildings. With a travel speed of some doors the operation cycle can be completed in a very short time, keeping the inside atmosphere as stable as possible all year round.
Roll up door fabric for industrial door which is commonly used business facilities.
High speed doors is the term commonly used for doors whose curtains are made from plastic tarpaulins.
Sign Up to Get Latest Updates
Contact us
Office: No. 6, Cuiling Road, Qingdao, Shandong, China
Factory: Qingdao · Weihai · Binzhou · Tai'an
+86-532-88915029
Send Email to us