Expertise · Guarantee · Quality
Number #1 Covering
Fabric Manufacturer
ISO9001:2015
Certified Company
Request a Quote
Fire Retardant Poly Tarps
We are a professional Fire Retardant Poly Tarps (Poly Coated Fabric) manufacturer and supplier in China. Here you can find high-quality products in a competitive price. Also we supply OEM service of products for you.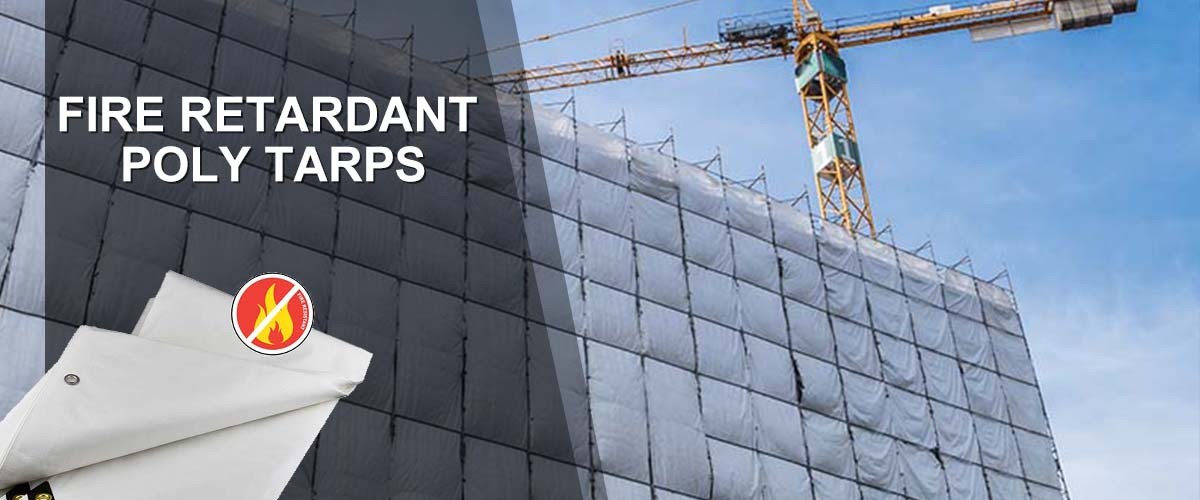 The fire-retardant quality of these tarps can prevent fire from occurring or slow down the process. Fire-retardant tarps are excellent protection covers in areas and/or situations vulnerable to fire and strong heat. Each tarp is made of heavy-duty polyethylene material, meaning denser weave count for a stronger tarp.
| | |
| --- | --- |
| Material | HDPE + LDPE |
| Weight | 40 GSM ~ 400 GSM |
| Fire Retardant Grade | NFPA701 Test Method 2 and CPAI84-6 |
| Width | 2 meter or 4 meter without joint. Available for wider fabric by heat sealing. Or as the client's requirment |
| Length | Can be any length |
| Density / sq.inch | 6X6, 7X7, 8X7, 8X8, 10X8, 10X10, 12X12, 14X14, 16X16 ( 2x3m, 3x4m,3x5m, 4x5m, 4x6m, 5x8m, 6x8m, 6x10m, 2.5x3.6m, 3.6x5.4m, 5.4x7.2m, 7.2x9m, 10x50m.) |
| Special Treatment | Ultra Violet Protection, Frame Retardant treatment available upon request |
| Color | Green, White, Blue, Silver , Blue White, Blue Silver,Blue Orange etc., any colors as the client's requirements |


Fire Retardant Poly Tarps have below Features:

- A tough, durable, and versatile material
-
These poly tarps are fire retardant
-
Waterproof, rain proof, mildew proof
-
Dustproof, sun-shade, keep temperature
-
Custom size hoarding tarps available
-
Custom finishing details available


WHAT THIS PRODUCTS USED FOR?

These poly tarps are fire retardant. The substance used to treat the tarps slow down the production of flames, so if the material catches fire, it can either delay or stop the spread of the fire. Mainly used as:
- Covering job site materials
- Wrapping modules to heat the work area
- Covering work areas to retain heat
- Scaffolding enclosure
- Exterior restoration projects
- Temporary walls, covers, ground cover
- Industrial plants & refineries
Sign Up to Get Latest Updates
Contact us
Office: No. 6, Cuiling Road, Qingdao, Shandong, China
Factory: Qingdao · Weihai · Binzhou · Tai'an
+86-532-88915029
Send Email to us