Expertise · Guarantee · Quality
Number #1 Covering
Fabric Manufacturer
ISO9001:2015
Certified Company
Request a Quote
High-density polyethylene (HDPE) tapes are woven and coated with low-density polyethylene (LDPE) coating to provide a weather tight surface.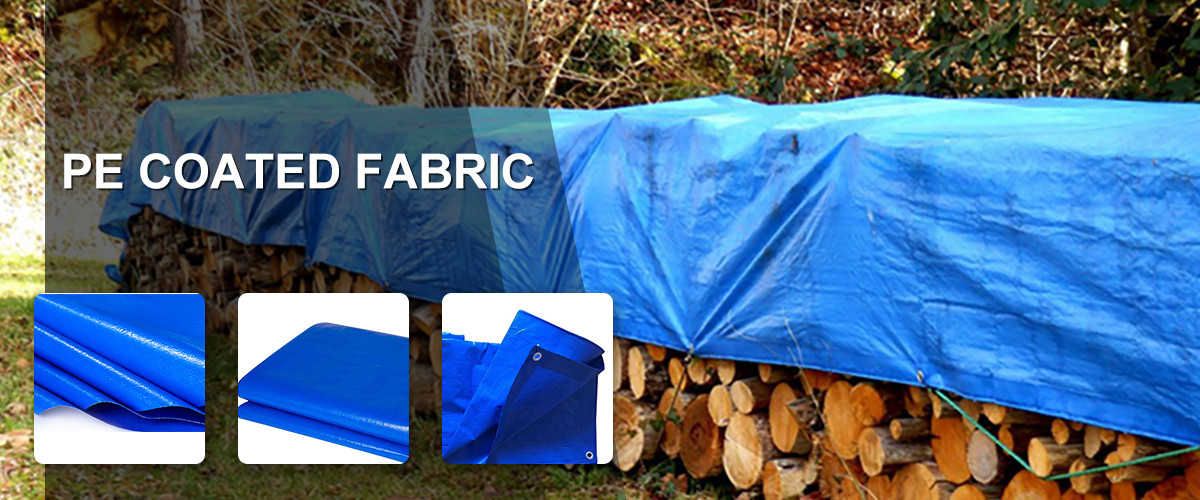 PE Coated Fabric is Polypropylene material coated on different fabrics. Currently, we has 2 types PE Coated Fabrics Products:
PE Coated on Woven Fabric
Vs.
PE Coated on
Non-Woven Fabric
1. PE Coated on Woven Fabric (PE Tarpaulin):

It is made from HDPE
cross weaving
fabric, laminated with LDPE. We usually call it woven reinforced PE Tarpaulin.
It's waterproof, crumble proof, and also weatherproof which means No leakages, No humidity, and No attacks. Works as the best temporary tents and coverings.
There are a few different structures for the fabric:
1). 2 layers Type: 1 Layer HDPE woven fabric with 1 layer LDPE coating. These are usually used for Roofing underlay, or used to laminated with other material.
2). 3 layers Type: 1 Layer
HD
PE woven fabric with 2 layers of LDPE coating. These are normal tarps used for many different industries nowadays.
3). 4 layers Type: 1 Layer
HD
PE woven fabric with 2 layers of LDPE coating, and laminated with 1 layer of PE film. This technic usually used for printing tarps.
4). 5 layers Type: 2 Layers PE woven fabrics and 3 layers of coating. This technic enhances the anti-leaking ability of PE Tarps and is usually used as Geomembrane or that applications that need to be extremely waterproof.
5). 6 layers Type: Based on our 5 layer type, we laminated one more printing layer. It increases the waterproof ability also the
Wearing resistance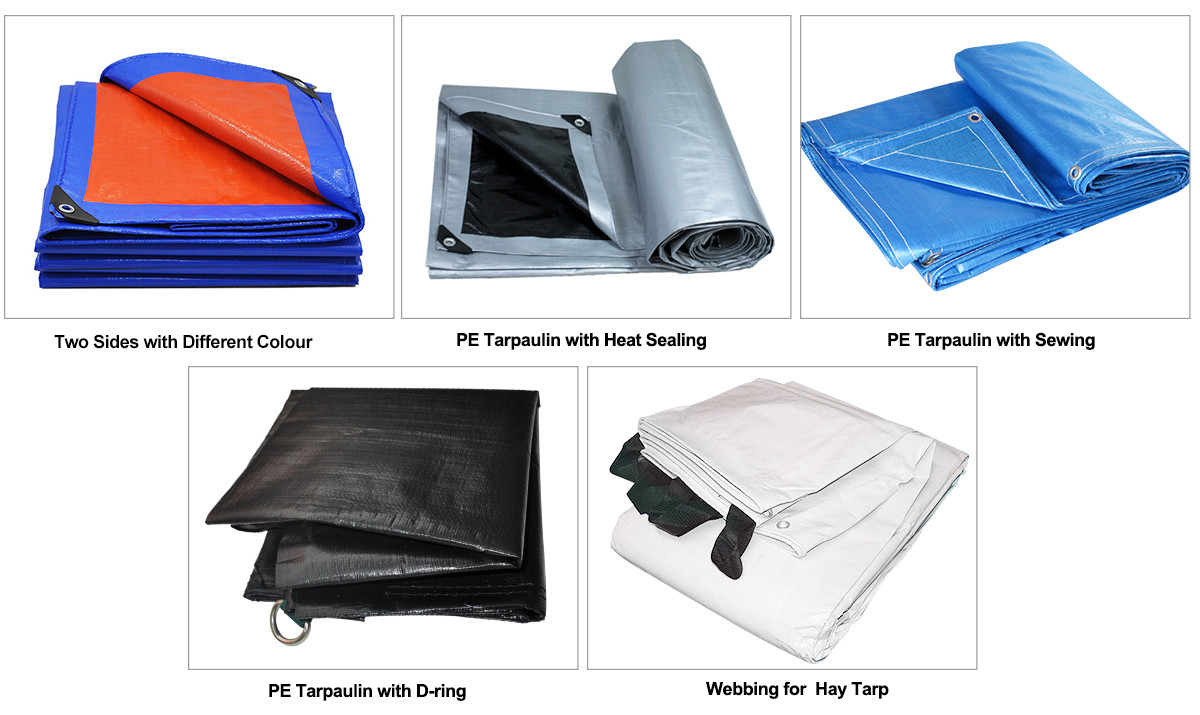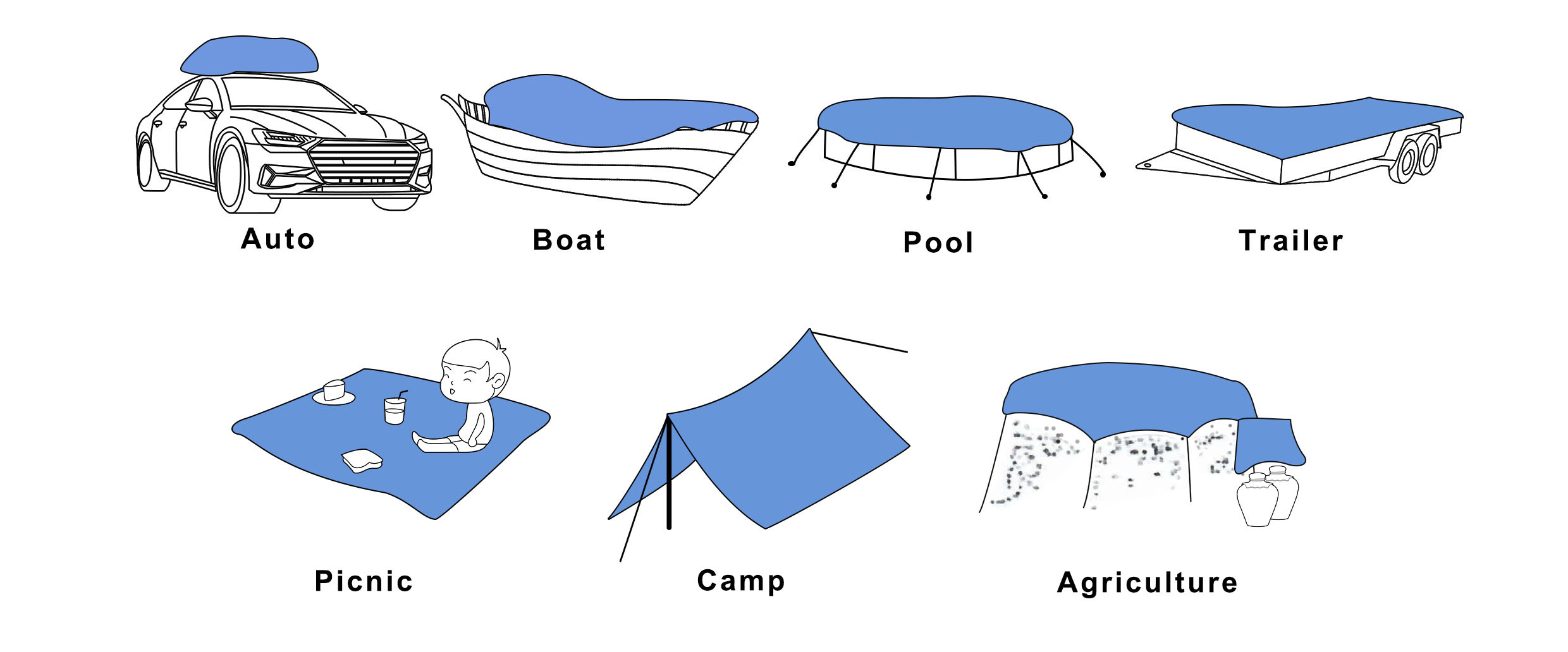 WHAT THIS PRODUCTS USED FOR?
General Cover, Construction and Machinery Equipment Cover
Covers for open-stored goods, Covers for trucks/automobiles/boat
Covers for Swimming Pools and Garden Furniture etc
Lining materials for storage tanks and containers
Lining material for irrigation Canals and grain silos
Industrial Cover, Tents, Picnic mats
Item

PE Coated Fabric

Material

HDPE + LDPE

Weight

40 GSM ~ 400 GSM

Width

2 meter or 4 meter without joint. Available for wider fabric by heat sealing. Or as the client's requirment

Length

Can be any length

Density / sq.inch

6X6, 7X7, 8X7, 8X8, 10X8, 10X10, 12X12, 14X14, 16X16 ( 2x3m, 3x4m,3x5m, 4x5m, 4x6m, 5x8m, 6x8m, 6x10m, 2.5x3.6m, 3.6x5.4m, 5.4x7.2m, 7.2x9m, 10x50m.)

Making

a. All edges with PP rope in hem;

b. Four corners reinforced by plastic;

c. Rustproof Aluminum eyelet in 1m (1 yard or 3 feet) interval;

d. Four corner reinforced by plastic triangle.

e. Each piece folded into a plastic bag with customer's label inserted

Special treatment

Fire Resardant/Ultra Violet Protection, Frame Retardant treatment available upon request

Other

Logos or other company information could be printed on tarpaulin.

Reinforced strip(7.5cm) could be added.
2. PE Coated on Non-Woven Fabric:
PE Coated nonwoven is usually made from spun-bond consisting of polyester fiber or polypropylene fiber that is then coated with another material.
It is often used as a backing or stabilizer for different materials in the construction and Medical industries. The advantage of this material is better
breaking strength, surface moisture resistance, water resistance, filtration efficiency, and anti-synthetic blood penetration.
Construction
:
The construction industry uses nonwoven, usually spunbond, coated with polyethylene for waterproofing in wet rooms or as wind and moisture protection outdoors.
Coated spunbond is also used as a vapor barrier. With different coatings, you can create different densities and levels of permeability. Our products are HouseWrap and Roofing Underlayment.
Absorbents: Because the material can block liquid but allow moisture in, it is often used for bags of moisture or odor absorbents e.g. in the packaging and transport of food products or clothing.
Medical
:
It is mostly used for medical and hygiene cloths such as surgical gowns, isolation gowns, disposable protective clothing, etc. it's cheap than PP spunbond non-woven fabric.
We offer different levels of density air and liquid permeability for indoor, wet room, and outdoor applications.
Among other products, we have coated spunbond that allows moisture through but blocks liquids. Our coated spunbond is available in rolls up to 3.0 meters in width and up to 15,000 meters in length.
Sign Up to Get Latest Updates
Contact us
Office: No. 6, Cuiling Road, Qingdao, Shandong, China
Factory: Qingdao · Weihai · Binzhou · Tai'an
+86-532-88915029
Send Email to us