Expertise · Guarantee · Quality
Number #1 Covering
Fabric Manufacturer
ISO9001:2015
Certified Company
Request a Quote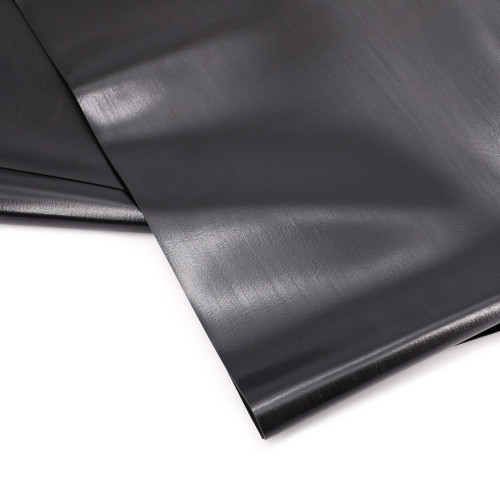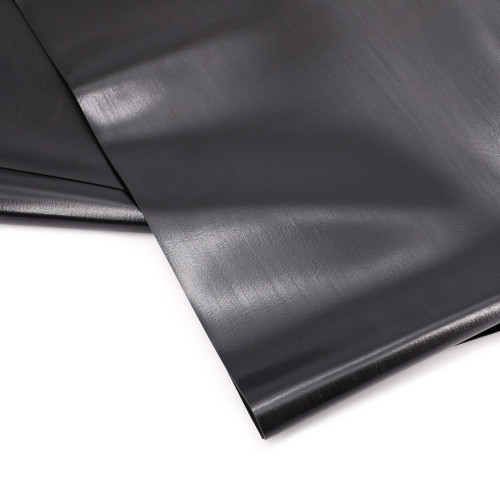 PondFlex-Black/Blue
| | |
| --- | --- |
| Categories | Geomembrane |
| Brand | TAIMEI Tarpaulin Shade Fabric Manufacturer |
| Life Time | 3-5 year |
| Type | Geomembranes |
| Color | Black |
| Thickness | 0.1-3.0mm |
| Width | 2m-7m |
| Length | 50-200m |
| Update Time | Dec 1,2023 |
PondFlex-Black/Blue

PVC pond liners are the most cost effective versatile and adaptable liners available. Ideal for ponds of all sizes with steep or gentle sloping sides, tight corners, contours and shelving.

Pliable and flexible; conforms to a variety of irregular surfaces. Excellent choice for water gardens, fish ponds and backyard waterfalls. This light weight liner is easy to install. Attaches easily to waterfall boxes, weirs and skimmers. Remains flexible and pliable even in extreme hot or cold temperatures.
Specifications:
MATERIAL DESCRIPTION
Properties
Test Method
HDPE-Smooth
Thickness
ASTM D 5199 mm(mil)
0.5(20)
0.75(30)
1.00(40)
1.5(60)
2.0(80)
Density
ASTM D 792 g/cm³
≥0.94
≥0.94
≥0.94
≥0.94
≥0.94
Tensile Properties
ASTM D 638 Tipo IV
Yield Strength
Kn/M(lb/in)
7(40)
11(63)
15(84)
22(126)
29(168)
Break Strength
Kn/M(lb/in)
13(74)
20(114)
27(152)
40(228)
53(304)
Yield Elongation
%
12
12
12
12
12
Elongation
%
700
700
700
700
700
Tear Resistance
ASTM D 1004 N(lb)
62(14)
93(21)
125(28)
187(42)
249(56)
Puncture Resistance
ASTM D 4833 N(lb)
160(36)
240(54)
320(72)
480(108)
640(144)
Carbon Black Content
ASTM D 1603(%)
2-3
2-3
2-3
2-3
2-3
Note: The technical specifications contained herein are believed to be reliable, but no representations, guarantees or warranties of any kind are made regarding their accuracy or suitability of the material for particular applications.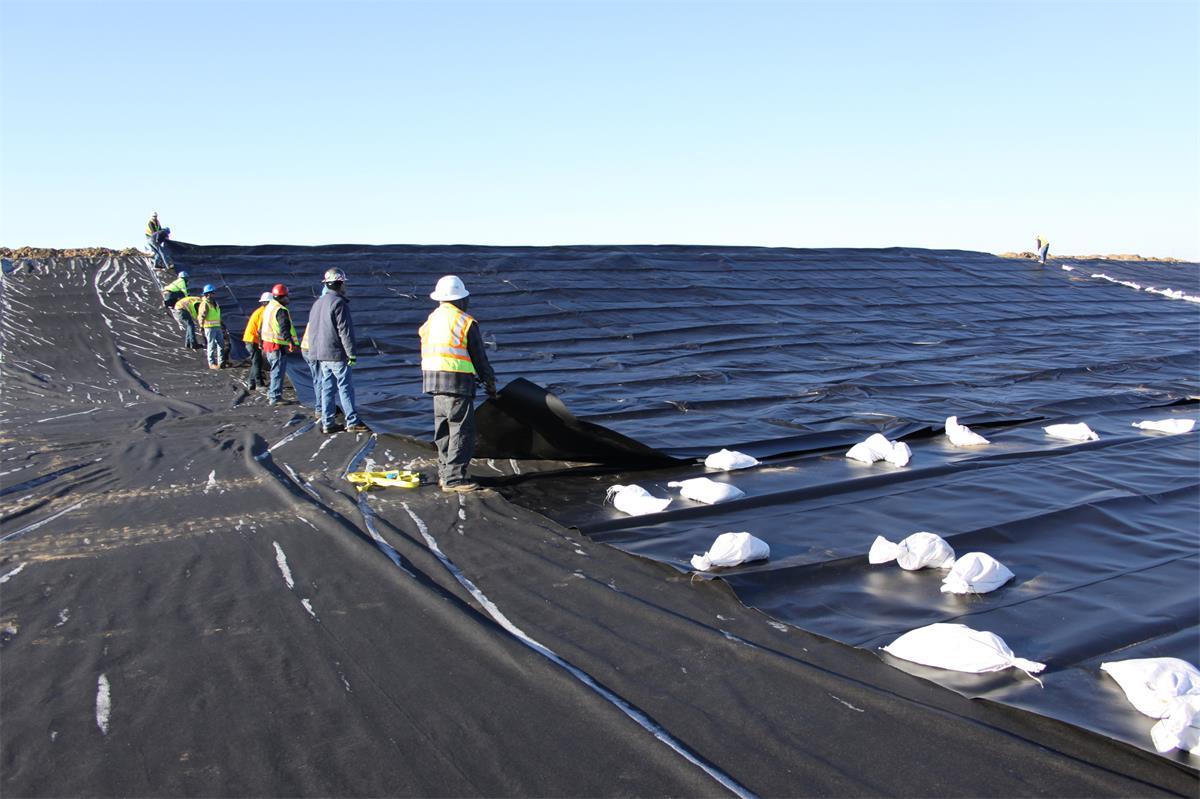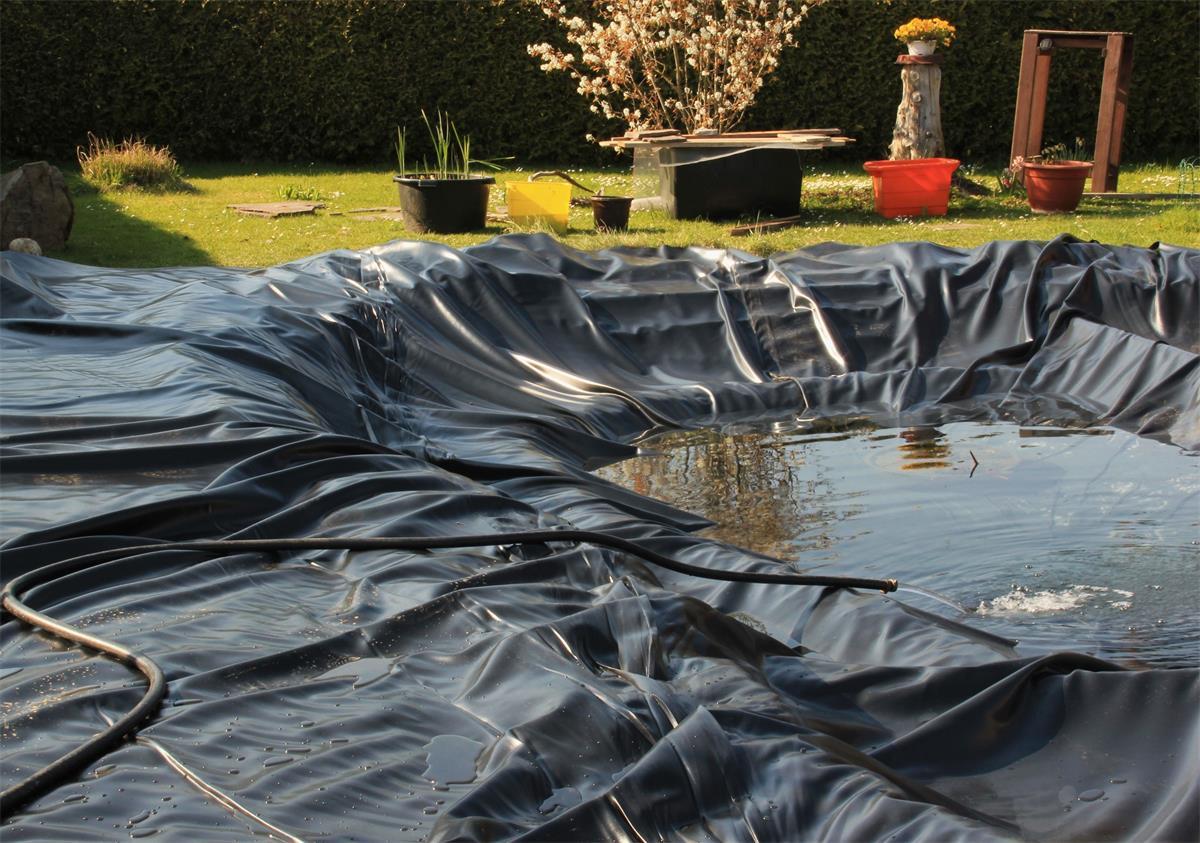 Features:
1.Environmental friendly formula:
The raw materials we have used meet the international standards, non-toxic, environmentally friendly. It is used for a variety of environmental protection, agriculture and aquaculture waterproof and anti leakage.
2.Aging resistance property:
With excellent anti-aging, anti ultraviolet and anti decomposition ability.
3.High mechanical strength:
Good mechanical strength, there are a variety of specifications to meet the different programs of electrical construction, water conservancy project waterproof.
4.Chemical stability:
Excellent stability, acid and alkali, anti salt solution, oil, alcohol and other 80 kinds of chemical medium corrosion, so it is widely used in sewage treatment, landfill.
5.Puncture resistance:
It has excellent puncture resistance, resist to most of the plant roots, so HDPE geomembrane is roof planting required products.
6.High impervious coefficient:
With perfect waterproof effect that ordinary waterproof materials can not match, it is recommended in some high waterproof requirements of the projects.
7.Fast construction speed:
HDPE geomembrane features high flexibility, with a variety of lay forms to meet the requirements of different projects, convenient and fast construction.
8.Low cost:
It adopts new technology, the production process is more scientific and efficient, so the product cost is lower than the traditional waterproof material. And it is the best product for water storage and seepage control.
Colors Available:
Black

Blue
WHAT THIS PRODUCTS USED FOR?
Geomembrane is mainly used for environmental sanitation, water conservancy, municipal engineering, garden, landscape, petrochemical, mining, salt industry, agriculture, aquaculture waterproof and anti leakage.
It is also applicable in the building basement, underground warehouse, underground garage moisture proof, membrane pile cofferdam, reclamation project and docks engineering, etc.
New design portable movable flexible mobile cube structure foldable Fish Pond.

PVC Fish Tank Aquaculture Galvanized Sheets Fish Aquarium For Koi/Betta/Guppy Fish

This new mobile pond grows fish very fast and can be used for fish culture in any environment.
For more detail, send us an inquiry below:
Just Fill ln The Form Below And We Will Response To You Within 12 Hours
Sign Up to Get Latest Updates
Contact us
Office: No. 6, Cuiling Road, Qingdao, Shandong, China
Factory: Qingdao · Weihai · Binzhou · Tai'an
+86-532-88915029
Send Email to us